I hope I'm not the only Art teacher that struggles with what to do with students who finish projects early. I am very limited on space and budget so allowing them to make a second project isn't usually my first option. Instead I like to keep the kids thinking creatively with minimal direction from me. Here are some activities that help the kids think creatively, think visually, allows them to have fun, work together, and not feel like they're being punished by finishing early. Students are given strict rules for free time activities and if they make poor choices during free time they're given a textbook to read and write answers from...they usually make good choices :)
Cartoon It!
This is a fun game that can be played with 2 + players. Kids are given a cartoon card to memorize in 30 seconds. Then they all draw their cartoon without looking at the card. First person that finishes yells "Cartoon It" and everyone else has 30 seconds to finish their drawing. (I have the kids draw on whiteboards so I don't waste paper). Drawings are passed to the person on the left and then the kids score each drawing based upon the 6 facial features they drew correctly. It is very easy to learn to play and the kids love the competition.
Pictionary Man
I have two sets of Pictionary Man To Go. I have students split into teams and then follow the pictionary prompts to draw. I usually designate one student to be the card reader/ judge. Again, this is an easy game for the kids to regulate on their own...sometimes they just get a little loud when playing :)
Pictureka!
This is easily one of my favorite games to play. It's like Where's Waldo for doodles. The kids love this game and just like to find the images without actually playing by the official rules. I love that there aren't a lot of pieces just the board and one dice.
SET
This is a really old card game that I had to buy on amazon.com. This game really challenges you to think visually. You play with a partner or groups and you try to find sets of 3 based upon shape, color, pattern, or fill.
Puzzles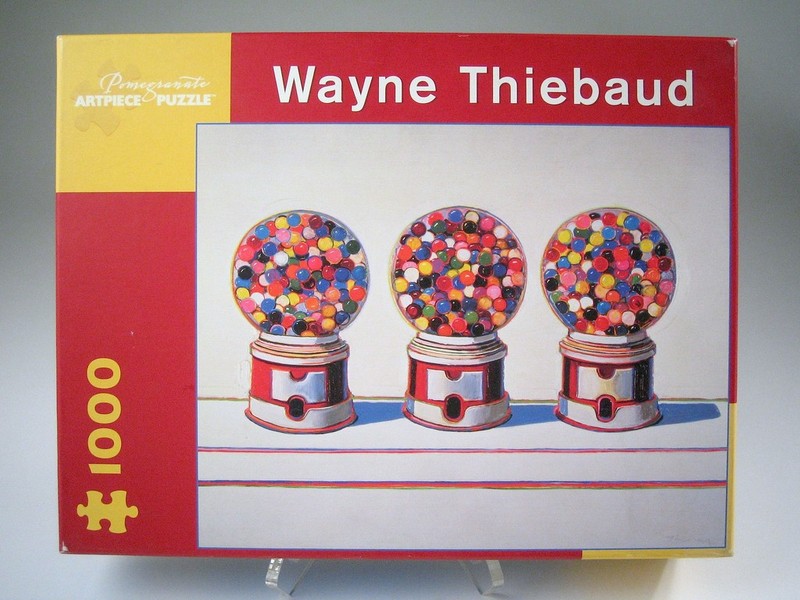 I have a variety of famous painting puzzles. I will set out one puzzle that has to do with the unit we're studying and early finishers can work on building the puzzle. This gets tricky to do if you don't have a permanent area in your classroom to leave the puzzle. And I only let trustworthy classes work on the puzzle so they won't lose my pieces. I have a felt puzzle mat that they work on to cut down on pieces falling on the floor since they stick to the felt.
Wooden Puzzles
I have a variety of wooden puzzles for the kids to solve. These are great for the more introverted students that like to work independently and it takes them quite a while to solve! Because they're so difficult to construct I advertise that a prize will be given to anybody that can solve it.
Metal Puzzles
The metal puzzles are also tricky to undo. The kids love separating these and again I offer a prize for those who figure it out...and then I make them swear to secrecy not to show their classmates how to solve it. lol.
Coloring Pages
I make a ton of photocopies from these pattern books that I bought at Michael's. The kids love coloring sheets and they're super easy to maintain. I have a binder with the printouts in clear sleeves. I write on the last copy with highlighter, "Last Copy, tell Mrs. George". The kids bring me the page and I make more photocopies. (The highlighter won't copy and it gets their attention so they don't color on my last copy...easier to feed through the copier than the book).
Drawing Exercises
I have a whole bunch of drawing worksheets that I inherited from another Art teacher. I keep these in a binder in clear sleeves and students take them one at a time. (Sometimes I also use these as punishment if they misuse a free time item. Or I send these with kids who go on vacation and I am required by the school to give them a "packet" of assignments.)
How to Draw Books
I have collected a variety of How To Draw books. I committed to buying one book with each pay check last year. I keep these in one designated spot with drawing paper. Kids LOVE how to draw books.
Whiteboards
I saw this idea on Pinterest and made my own whiteboards for my classroom. I used clear report sleeves, cut a thin piece of cardboard to slide inside then placed a piece of white computer paper on both side. I used duct tape to seal the top shut and you have double sided white boards that cost around $3.00 to make. I let kids draw on these for free time or to sketch rough draft ideas for projects.
Playfoam
I let the kids use playfoam on a limited basis. They are given strict instructions not to make anything inappropriate, they can not make baseballs and throw/bounce them. The first time they misuse the playfoam they are banned for the remainder of the grading period.